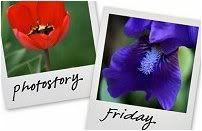 Hosted by Cecily and MamaGeek

I wanted a cute picture of Sophie the other day and when I said 'smile' she immediately made funny faces with noises to go with them.
So I said, "C'mon strike a pose for me."
"There's just something about a woman in a hat that's just so vogue, you know what I mean?"
(what movie?)
About six months ago Nate was laughing at my Susie~bubblegum~ness and said that if he was a millionaire he would buy me a cable station and call it the 'Susie Channel.'
(

if you know anything about me, then you know I really hope he makes this one come true--I am just this dorky. )
Since then, we have been critiquing movies, music, and shows by if they will ever make it to the Susie Channel or not. The question is, "Is it bubblegum enough?"
Madonna's music and videos will all make an appearance on the Susie Channel-although not ALL of her stuff is bubblegum enough (I'm thinking TRUE BLUE is my greatest hit); the movies Twister and Practical Magic will be run once a day --everyday; and T.V. reruns will consist of The Brady Bunch, Happy Days, and Sex in the City. For evening time I will show The West Wing, NYPD Blue, and of course, The Gilmore Girls.
Cheesy huh?
Well, that's me-all things bubblegum.
Oh, and one last thing--we just heard yesterday that coming on February 17 High School Musical 3 will be out on video and you can bet your booties that Sophie and I will be celebrating with an entire week long High School Musical tribute and the "Susie Channel" will air the trilogy weekly!
My only last question is this, "What's on your channel?"
(and if you guessed the movie from the quote above you can bet all of your bubblegum it will be run as well)