With the amount of lemons thrown at me this week, I could easily open a fruit stand right in my front yard.
Now, at the beginning of the week-I would have simply thrown those lemons at anyone who happened to walk by--and probably chucked handfuls if you dared not to even think to say HI!
However, once my terrific Tuesday was underway, my entire attitude was transformed and I figured out a way to make some whoohoo lemonade instead.
And it tastes fantastic!
This is my favorite recipe to share although to be honest I've experimented with tons of recipes this week-and I love them all. If you are interested in some more--feel free to email me!
Susie's Digital Whoohoo Lemonade
The cooking time varies in this recipe by the amount of creativity you have to add to the mix.
Ingredients:
One broken camera (lemons)
1/2 dozen old pictures waiting for editing (pitcher of fabulous ice water)
Premium package at
Picnik
(yummy sweet sugar)
A dash of your own creativity. (your very own special secret ingredient)
Instructions:
Once you have broken the camera, before you get to purchase a new one, you need to go back through your older pictures and find the millions that went unedited because time just moves to quickly.
Choose 6 of those unedited photos and upload them to your premium Picnik account. It's important that you have the upgraded version of Picnik so you can enjoy the FANCY COLLAGE version and scrapbook the pictures very easily for flavor.
Add a dash of your own creativity and viola! You now have some beautiful scrapbook pages! Picnik will easily store any unused photos for the next rainy day until you replace the broken camera!
For more recipes and some super photo stories please click below!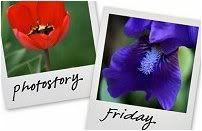 Hosted by Cecily and MamaGeek