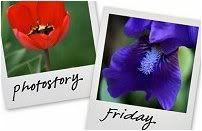 Hosted by Cecily and

MamaGeek
Below is the former home of the two spiders I fear yet have grown to appreciate over the years. I now refer to them affectionately as Charlotte and Chester: two generations of big, giant, scary spiders! I had to
picnik
them in as they have decided to move away--or so I thought.
It's actually the slider door to my back deck. A couple of years ago a rather large spider, who had not yet been named Charlotte, decided to build a beautiful web here. I was fortunate enough to notice this web when I walked right into one morning while letting the dog out. If you have ever walked into a spider web you know exactly how tickly, sticky, and hairy it feels. At this point I was totally freaking out-yelling and screaming and doing the wiggly dance trying to get spider web off my face. Not a good way to wake up. I was so mad at the spider who did this -- I couldn't wait to get my revenge.
The next night I looked out the door just before going to bed and I noticed the spiderweb was back. I clicked on the light in time to see big, giant, hairy, black
Charlotte
scurry behind the light fixture. I actually contemplated lighting the web on fire, because I tend to have those instincts in me from time to time, but thought better of it and just went to bed.
The next morning I noticed several huge bugs had been caught in the web--bugs that could very well have gotten into the house while letting the dog in and out.
That's when I let her live.
Then I showed Sophie the web and she LOVED it-thus she became Charlotte and she was a wild, family pet for the rest of the season. We had an understanding--Charlotte and me--and as long as I left her web alone--she would stay
outside
and continue to catch icky, nasty bugs for me.
That year ended without another mishap-spider and mommy getting along just beautifully and life was good.
The next year another spider came along. I know it wasn't Charlotte because this guy was brown not black-so we assumed it was Charlotte's better half and named him Chester. We made the same agreement with Chester, figuring Charlotte was probably at home taking care of the babies (you know spiders have hundreds-right?) Life was still good-no giant bugs getting in the house, and I learned to accept --rather than hate-- another big spider.
I still get the E-B-G-B's though just typing this little story.
This year?
The web didn't come back. It had appeared that they had taken their babies and moved away. No web, no spider, and a big threat of icky bugs flying around the back porch.
It seemed a little strange that the spiders didn't come back. I still can't believe I actually wondered what happened to them.
Yeah, I wondered------at least, until I saw this spider just about a week ago.............
I was washing dishes when I looked up and saw this ENORMOUS creature looming in the window,
teasing
me. "Neener neener
neeeeener
!"
I screamed for Nate to come see and he said that I needed to get a picture of this one. It was the KING of all KING Spiders.
He moved up that night so I was able to get a good contrast picture against the white part of the window. It then occurred to me that this monster may very well be the reason poor Charlotte and Chester haven't come back.
I think this guy ate them.
Seriously. For all I know, this was Charlotte's own offspring who turned on the family and took them all out in order to conquer the backyard.
I'm not naming this one. As a matter of fact, I contemplated catching him and sending him back to the Amazon rain forest where he belongs.
I WILL NOT learn to love him. Especially when I think about the fact that when spiders have babies--um, they have hundreds!
Yeah, we'll be moving soon. And if one of these monsters makes his way into my house? I'll make sure my husband blogs about it, after I've had my heart attack. I just hope I survive.
So, once again, I HATE SPIDERS! Always have, Always will. And I really miss Charlotte and Chester. Never thought I would say that! Poor, stupid, giant, hairy spiders. UGH!
This is the GIANT bugger before I edited the picture.
And this is him, post Picnik. Can you believe this is a REAL spider. In my backyard???????? OMG!